Prerequisites
Access to WinSCP and Putty
Linux user login (ndbadm)
Cloudiax Login
SYSTEM User access to your HANA backend with HANA Studio
(only available with a own Service Unit)
General knowledge about HANA and Linux commands
If there is something missing please request it with a ticket
1. Copy over the packed schema to our system, the best way is to use our FTP-S for this.
A guide for the FTP can be found here.
2. After the database is uploaded to our system start WinSCP and login to the Linux server.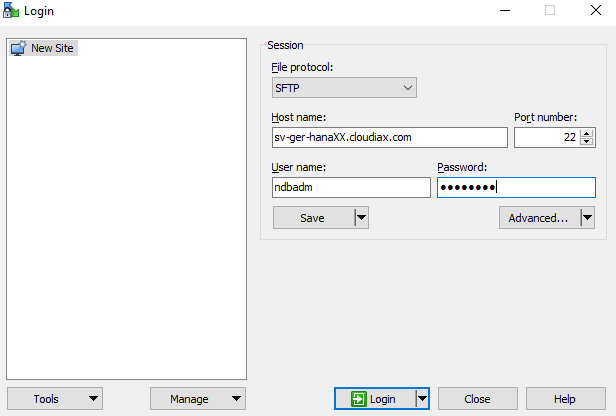 3. The HANA Server is the same as in the HANA Studio.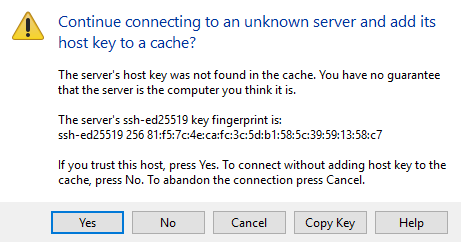 4. When this message popup click yes to accept the connection.
5. You are now in the home folder of the ndbadm
The next step is to copy the backup over to the Linux system.
A good way is to open the path where you have store the backup in an explorer window and copy it over.

6. After the file is available on the Linux system open putty and connect to Linux system.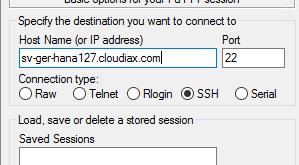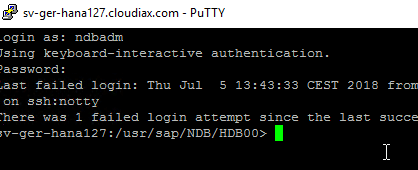 7. After the login you should be in the folder /usr/sap/NDB/HDB00 please move to the folder where you have copied the backup.

8. Now you must extract the backup, please note that this command can be different as it depends on the archive type.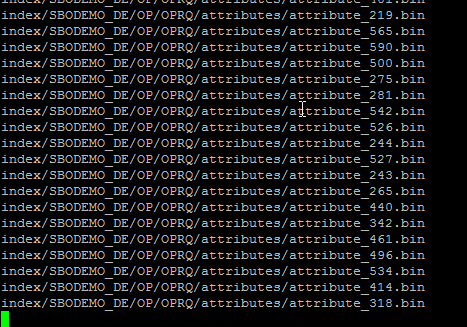 9. After you have extract the files you should see a new folder structure, in this case we see the export and index folder that we need for the import.

10. As next we must go to the HANA Studio
Connect to the HANA System, and open a SQL command window

11. Create the import statement
Please check: https://launchpad.support.sap.com/#/notes/2134959
for the correct parameters and syntax

The path in the import has to be pointed to the path where you have place the backup, default is: /usr/sap/NDB/home/
Important notes
If you are not familiar with Linux and HANA Studio you should not perform this task as a failure can maybe cause huge damage to the system and data, please note that Cloudiax is not responsible for this.
Please do not overwrite databases, drop this database upfront. It is recommended from SAP.
Please do not drop databases from the HANA Studio if they are registered as a Tennant in the Cloud Control Center, if you would like to replace a database that is already added to the Cloud Control Center please drop it in the Cloud Control Center first, if you don't do it this will probably cause data inconsistence.
If you import with rename please doublecheck the syntax.
Please note that HANA and Linux resources are not endless, if you import huge schemas check the system resources and disk space. If you not sure if it is enough, please contact us first.
Generally, you must be careful with this kind of tasks as it can damage your system in case that it is not handled correct.