BRING YOUR
CUSTOMERS
TO THE CLOUD
Earn monthly
from the first customer
Without
initial investment
Cloud platform
for your
business apps
benefit
from
Earn money
on the operation –
from the first customer.
Make long-term and
continuously revenue
with your customers.
Offer your services
in the cloud market.
Meet your customers'
requirements easily
and flexibly.
Make yourself
and your customers
fit for the future!
offer your
customers more
Fully customizable
Your customers always have individual requirements. You can offer them this flexibility only with Cloudiax.
Shortened sales cycle
& quick deployment
At Cloudiax you have a very transparent
pricing model
and can quickly provide the services to your customers.
Full add-on functionality
All cloud-compatible add-ons are compatible with Cloudiax. This way, you can respond even better to your customers' requirements.
Competent employees
Use the Cloudiax know-how to your advantage! We have many years of experience in the cloud.
50% discount and
90 days withdrawal right!
Select the products and options from the normal price list and order them as a
Quick Starter Edition
for your start.
Saving time and money
Setup, updates and backups are included in the price!
it could not
be easier
Earn money with
just a few steps!
Order your
first customer
We provide your customers
with the cloud services.
Win more customers with the cloud!
References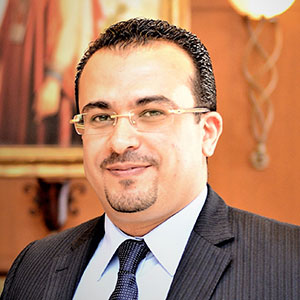 "Cloudiax is the solution for a hassle-free business operation, simple and flexible with team of professionals understand your needs."
Ahmed Hosny
Managing Director
BE ONE Software Solutions L.L.C
Egypt
"Cloudiax is more than a provider or a data center. Behind Cloudiax are smart nerds who want and can solve problems with expertise, professional knowledge and curiosity. We were actively supported by Cloudiax in the most extravagant cloud projects, so that our mutual customers always received an efficient and secure cloud environment for the SAP Business One landscape."
Sascha Reichow
Certified SAP Business One Consultant
White Sheep GmbH
Germany
frequently asked questions
How can I earn money from my partnership with Cloudiax?

You continuously earn money with every user through your partner discount.
You can also offer your customers training and consulting on how to use the cloud services.

How long does it take to deploy a cloud environment?

The cloud environment is normally deployed within 7 working days. This period can be extended depending on the individual requirements of your customers.

What is the Quick Starter Edition and how does the order work?

This option is the ideal product for a risk-free and cost-effective introductory and project phase as well as for all consulting firms in the sales phase to complete the sale faster and more successfully. Configure your customer's cloud environment based on the normal price list and order it as a Quick Starter Edition with 50% discount on street prices within the Quick Starter phase and 90 days withdrawal right!

Order now easy and fast!

What prices do I pay for my orders to Cloudiax? Do I get partner discounts?

Cloudiax grives the partner a purchase discount of 25% on the respective price list.

How long is the term of my partner contract?

The contract begins with signature by both parties and is concluded for an indefinite period. The contract may be terminated by either party with three months' notice to the end of the calendar year.

How does Cloudiax settle my orders?

We bill orders quarterly (calendar quarter). The invoice is due and payable in advance.

You conclude contracts with your customers for Cloudiax products in your own name and your own account, unless otherwise expressly agreed in individual cases.

Which licenses are included in Cloudiax products?

All necessary licenses (operating systems, access licenses, virus protection, Microsoft SQL, etc.) are included in the respective Cloudiax product. The license for SAP HANA should be supplied with rental licenses from SAP. A separate SAP HANA database must be purchased for on-premise licenses.

All Cloudiax products and solutions in the price list do not contain SAP Business One and add-on licenses.

Which additional advantages do I have as a SAP Business One Cloud Partner?

As our SAP Business One Cloud partner you also have the following advantages:

Free migration from SAP B1 SQL to HANA for your customers.
SAP Business One Private Cloud for your customers from 6 users with their own individual system (SQL or HANA) and full administrator access.
Free choice of SAP Business One licenses. Your customers can simply bring their existing purchase licenses, buy new licenses from the SAP consulting firm of their choice (on-premise licenses) or rent them (cloud licenses). OEM licenses that are available together with an industry solution based on SAP Business One can also be used at Cloudiax.
and many other unique advantages.

Which additional advantages do I have as a [accantum] partner?

As our [accantum] cloud partner you also have the following advantages:

You can offer your customers the right version for different company sizes. We provide an appropriate service to every company.
For the document management and archive system [accantum] DMS in the cloud there is an interface that is compatible with the SAP.
The prices include the provision and operation of the [ accantum] solution, an SQL database for indexing and storing documents in the cloud, the [accantum] company license, the OCR license (optical character recognition) and all other licenses required for installation.

Start now and make continuously revenue with your customers!

How can I offer my own product in the Cloudiax cloud platform?

You have the opportunity to offer your cloud-compatible product on our cloud platform. Please contact us in this case. We also support you in marketing and sales of your product as a cloud product.

Which support channels are available to Cloudiax partners?

Our support team of specialists is there for you 24/7/365!
The Cloudiax support team offers you fast response, high first-contact resolution rate, multilingual support, full monitoring and many other highlights.

Where is the Cloudiax data center located? How safe are my customers' data there?

The Cloudiax data center is located in Germany near Hamburg. With the strictest European and German data protection guidelines, the valuable company data of you and your customers is safe in our data center.
You also support the environment with your data in the Cloudiax data center! Because our data center is 100% CO2-neutral and produces 100% of its own electricity from wind power, solar systems and biothermal power plants. Detailed information about the Cloudiax data center can be found here.

Does Cloudiax also offer Two Factor Authentication to protect customer accounts?

We offer our users Two Factor Authentication (2FA) to protect their data and ensure that only they can access their own account. The item is only required once per user, regardless of which and how many solutions the user uses on the Cloudiax platform.