The news of forest fires in many areas worldwide has been overwhelming this year. In 2022, around 1 million hectares of forest burnt down only in the Mediterranean region.
It is everyone's responsibility to reduce environmental impact and help slow down global warming.
Everyone can do something to slow down climate change, but you have to know how.
For this reason, climate protection is an integral part of Cloudiax's corporate philosophy.
In this blog, you will find out what part Cloudiax and its employees contribute to protect our planet, and maybe one or the other topic can also be achievable for you too?
Going paperless has never been easier
If we think about our forests, paper consumption comes to mind in the same breath.
The Cloudiax team tries in every possible way to reduce paper waste. For example, we completely avoid using paper in the following topics:
Receiving our payslips digitally through a portal.
Using of iPads with digital notes instead of a notepad.
Sending invoices to clients in digital form.
Using our business cards in the form of vCards.
Preparing all order forms and contracts for clients in digital form.
Stopping printing advertising flyers for meetings and summits.
It's hard to imagine how much paper is still being produced despite today's digital possibilities.
In 2019, there were about 415 million tonnes of paper worldwide.
It doesn't take much effort to change that. You can access your data in the Cloud and send it digitally at any time.
0% CO2 with working only from home
For the first time since recording, our CO₂ emissions are at a record high.
In 2021, 36.3 billion tons of energy-related CO₂ emissions were emitted worldwide.
Did you know that enormous CO₂ emissions can be saved with just one person working from home? We calculated it using a Cloudiax employee and are amazed at the numbers.
With an average fuel consumption, 59,400 km and 20.8 t CO₂ are saved per year. And now imagine how much is saved for the entire company!
At Cloudiax all employees now work 100% remotely from home and it feels good to reduce the carbon footprint.
Cloudiax goes green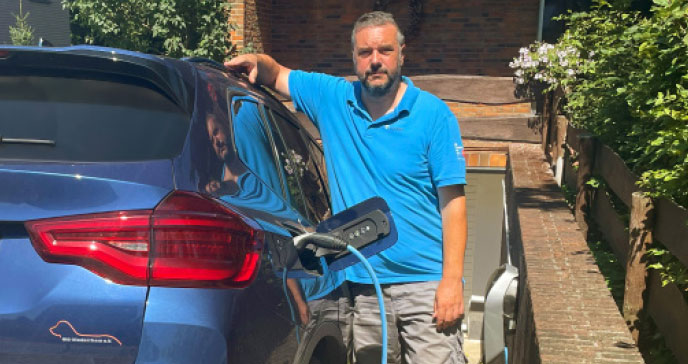 Sometimes you can't do everything without the car. But if you need a car, we think you'd better go green.
We have been in a major conversion process for a long time and have switched to environmentally friendly, green driving.
Our CTO Hartmut Volkmar has also switched to an electric car and has even installed a wall box for his company car at home.
We have consciously decided for the electric car and want to set an example for the environment. No CO₂ is emitted during the journey.
You also want to protect the environment,
do something for your health, save time and money?
It's that simple!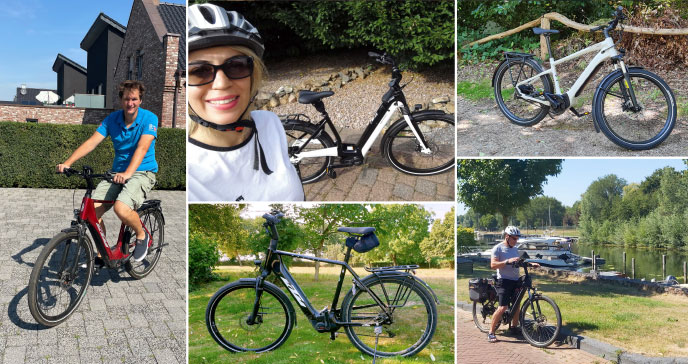 Cloudiax has given all employees the opportunity to lease an e-bike for themselves via Jobrad.
The first kilometers have already been ridden and the first experiences shared with us. You explore your city and the surrounding places in a completely new way, discover previously unknown places without CO₂ emissions and do something good for your health on top. Together for a better future with a smaller ecological footprint.
CO2-neutral computing power
Last but not least, we would like to draw your attention to our 100% CO₂-neutral data center in Germany.
Because the Cloudiax data center produces 100% of its own electricity from solar panels, wind turbines as well as 5 bio block heat and power plants that use organic residues from farms near our facilities. The data center is also directly connected to the wind turbines and the roofs of the buildings are equipped with solar panels.
So if you back up your data in the Cloudiax data center,
you get 100% CO₂-neutral computing power and automatically
make a contribution to climate protection.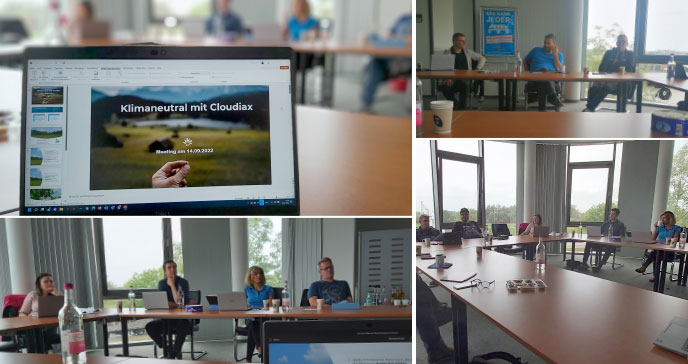 All of this will not save the world overnight, but we are quite sure that the constant dripping wears away the stone and that we will always achieve more.
And because we are so concerned about climate change, we have scheduled a personal meeting that we will repeat at regular intervals to discuss with part of our team what Cloudiax as a company, and what we as individuals, can and will do to protect our environment.
Don't miss anything and follow us on LinkedIn and Twitter to stay up to date.
Do your part for the environmental protection, join our Cloud platform and work from anywhere in the world. Learn more.
Bring your SAP Business One to the Private Cloud powered by Cloudiax today, digitize your company with the document management system DMS and workflow management system WMS in the Cloud, thereby supporting the reduction of paper consumption and at the same time saving your valuable time and money.