Cloudiax supports the competitive and youth sports of the Bocholter Yachtclub in Germany for the next four years.
The meeting to sign the sponsorship agreement was held in December 2022. On the photo from left to right: Jochen Elsweier (2nd chair Boh-YC), Stefan Sundarp (cashier Boh-YC), Dirk Cyrener (CEO Cloudiax), Heinz-Jürgen Konkel (1st chair Boh-YC).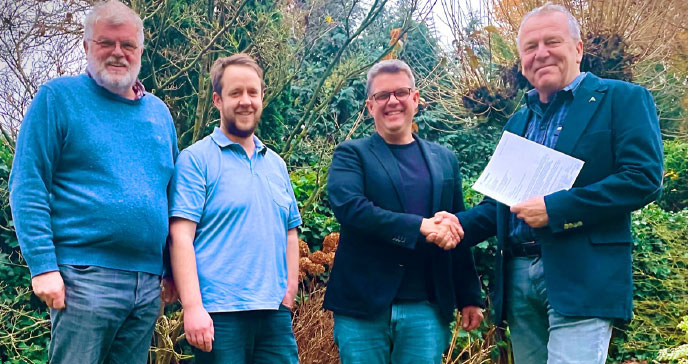 Dirk Cyrener explains: "Nature-based sailing emphasizes the attributes of sustainability and CO₂ savings that are important to Cloudiax! With our commitment, we want to promote regional youth work and young talent as well as support the operation of the German Sailing League as a sponsor. The Bocholter Yachtclub sails, among others, in the German Federal Sailing League and in the German Federal Junior Sailing League. Last season, promotion to the 1st Bundesliga was very close. We are looking forward to a long-term partnership."
The Bocholter Yachtclub was most proud of its youngsters, who won the Junior Sailing League. Heinz-Jürgen Konkel emphasizes: "The Bocholter Yachtclub is looking forward to the partnership with Cloudiax. In our eyes, the German Sailing League is the ideal transformation of the classic regatta format into a spectator-friendly sailing competition. In classic regattas, each team sails their own boat away from the spectators on the shore. The German Sailing League is different: thanks to central boat management and team changes on the water, resources are used more sustainably and, thanks to live tracking, the spectator is very close to the action on the home screen from everywhere. You can really follow the action."
For Cloudiax, environmental protection and sustainability are important concerns. We have already taken many steps in this direction and will continue to do our part to protect our environment. Sailing is a form of transportation with an extremely low CO₂ footprint that produces zero fossil fuels and has minimal impact on the environment. With this sponsorship Cloudiax aims to increase awareness of climate change and the protection of the natural environment.
Use our eco Cloud platform for yourself and your customers and indirectly make your contribution to environmental protection: www.cloudiax.com