SAP Business One, based on the SAP HANA in-memory platform, helps your business run smarter, faster, and much more efficient.
SAP Business One HANA combines database, data processing and application platform capabilities in-memory. The platform provides libraries for planning, text processing, and business analytics.

Real-time analysis of complex, large volumes of data, creation of reports as well as access to data is possible in seconds using a single copy of data on a single platform.
You can take advantage of a modern, intuitive user experience and optimize your business, planning and decision-making processes with SAP Business One HANA in the cloud.
The use of SAP Business One HANA in the cloud means for your company an acceleration and control of business processes through a faster flow of information. Get real-time results and insight into your organization's operations. Well-founded reports thus lead to qualitative decisions.
Take the advantages of SAP Business One HANA in the cloud!
Real-time analysis, reporting and planning in one central solution. Get real-time business information and system access instantly when you need it, anywhere and on any device, so that you can clearly define and focus on the right priorities.
It includes setup and updates to the latest SAP Business One version. You do not need IT infrastructures in your company. Your data is securely stored in a data center. You do not need to take care of updates and backups. You save time and money for other parts of your business.
You are completely free in your choice of license. You can bring your existing licenses or rent new licenses.
Additional mobile apps like the B1 Sales App let you effectively handle your sales activities anywhere, anytime. The mobile app connects to the SAP Business One application, giving sales people access to the most relevant business information and processes, so they can efficiently and successfully manage customers and sales.
Service Layer for connecting third-party systems. This enables a simple and fast connection of third-party systems such as web shops, etc.
The central cockpit allows you to navigate between objects in the system without changing the view. SAP Business One HANA cockpit is a modern, user-friendly web administration tool based on the SAP Fiori® user experience that supports multiple SAP HANA instances in your landscape. It simplifies your access to information and improves the user experience.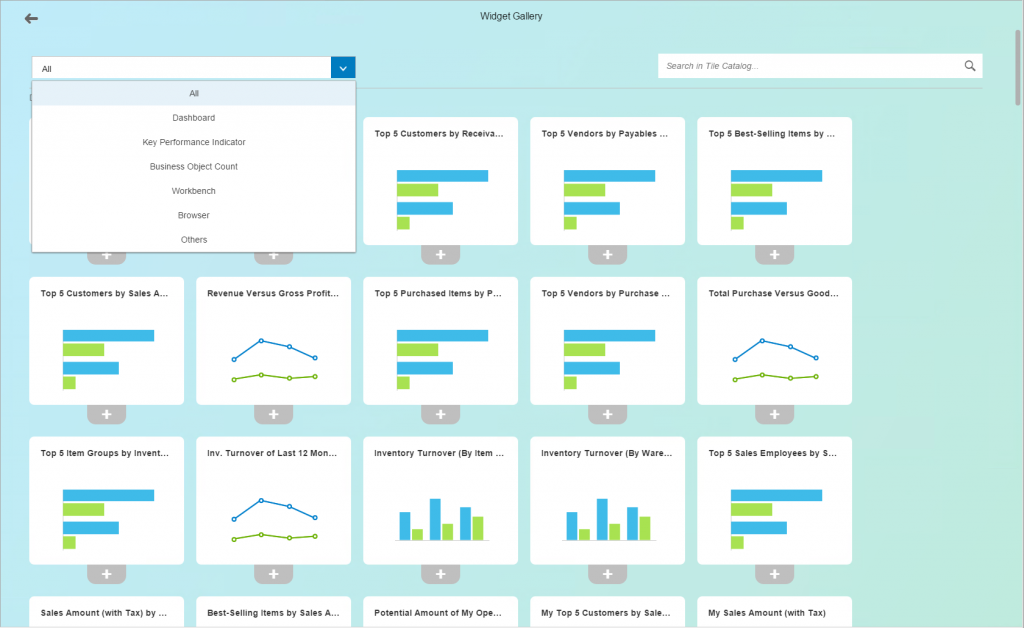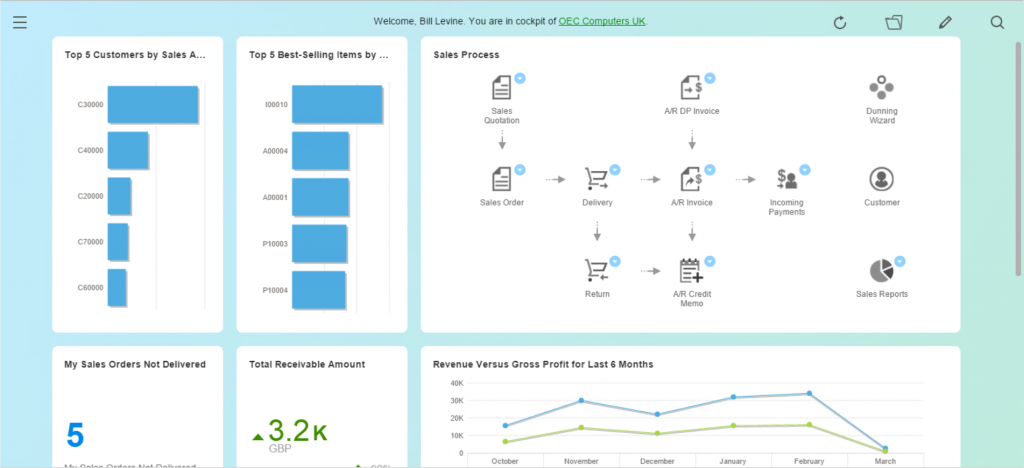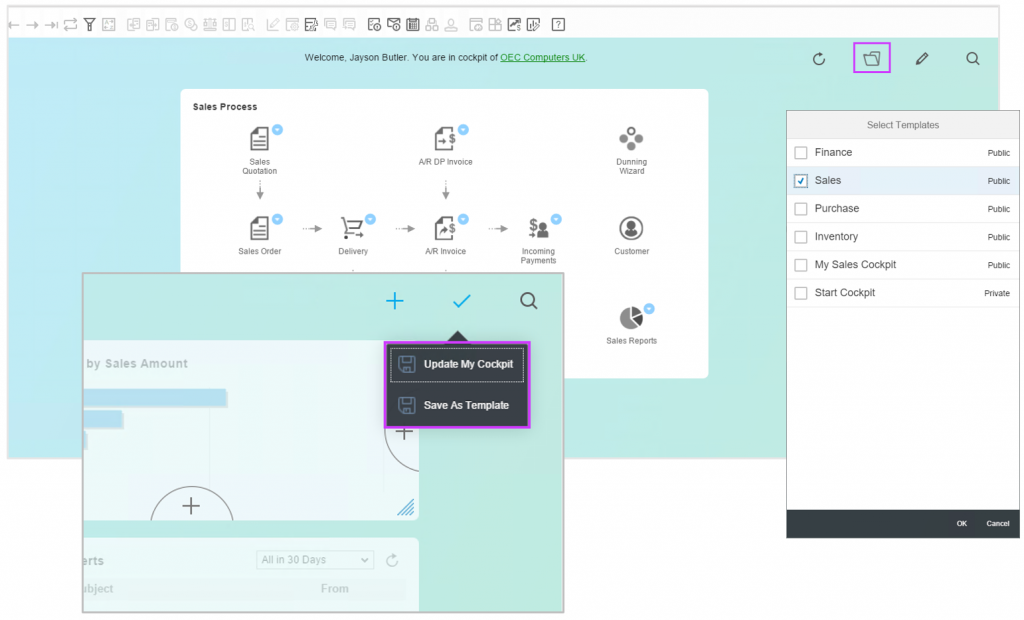 The HANA version of SAP Business One offers Enterprise Search – a great functional enhancement for searching across the entire SAP Business One database. You can Search any field, any data, even large data volumes and then use the SAP Business One HANA Enterprise Search functionality to refine your results. SAP Business One HANA Enterprise Search will narrow down the range of documents and the date range that you have selected. In a few seconds, you have located the quotation that you are looking for with instant drill down to the relevant document.
Locate business information just as you would do a search on the internet!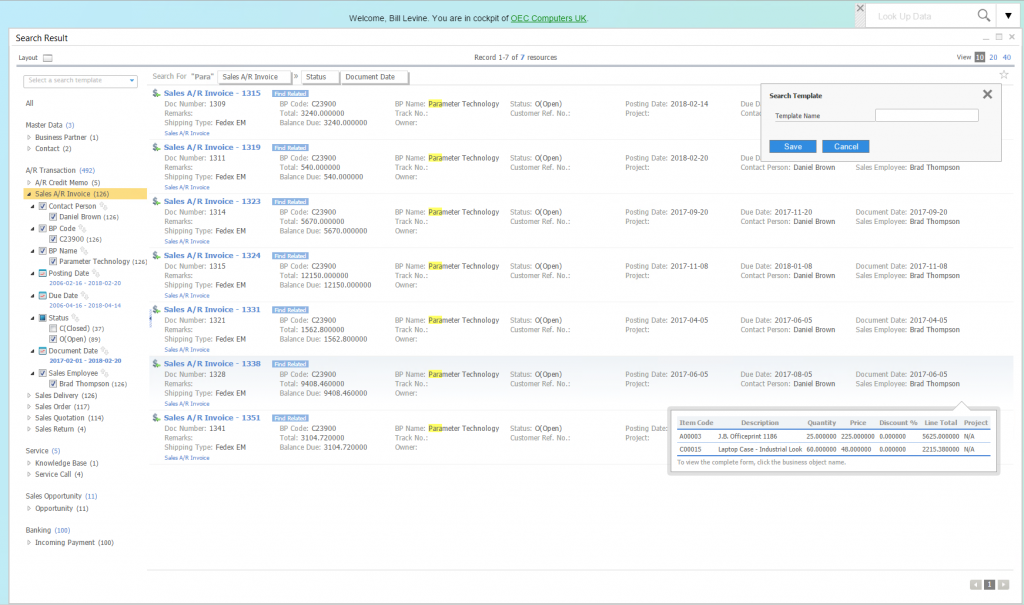 Ability to publish and share documents with Crystal Reports.
Text analytics in SAP Business One HANA include advanced natural-language processing and entity extraction capabilities, such as segmentation, stemming, tagging, and sentiment analysis.
And many other benefits for your business.
The process to migrate from SAP Business One SQL to HANA in the cloud
We will provide you with a copy of your existing database into SAP Business One HANA in the cloud. You have 30 days to test this new system for free. After 30 days, we will completely migrate your system and you can continue using the HANA system as your productive system.