YOUR CLOUD
IS READY FOR
NUMEROUS
POSSIBILITIES

Cloudiax enables you to quickly deploy different applications and access them from anywhere, around the clock and from any device.
You can start easily and risk-free with your environment in the cloud.
Our integrated solutions can be fully adapted to your individual requirements at any time. The processes should be flexible, efficient and still cost-effective.
All this and much more can be realized with Cloudiax!
Jan 13, 2022
Dirk Cyrener's executive board contract
at Cloudiax AG extended prematurely.
The supervisory board of Cloudiax AG, under the leadership of Werner Hölzl, has prematurely extended Dirk Cyrener's executive board contract until 2028. "Since 2016, Dirk and his first-class Cloudiax team have been converting the economically immature IT company with diverse business areas into a focused and highly profitable cloud provider," said Werner Hölzl, chairman of the supervisory board. With annual growth rates of 30%, Cloudiax has built an outstanding reputation worldwide as a SAP Business One cloud provider.
"So far, we have been supplied the world from our green data center in Hamburg. The next growth step is now the commissioning of our data center in Toronto in the first quarter of 2022, which will enable us to deliver even better cloud services to our North and Latin American SAP partners and customers," says a visibly satisfied Dirk Cyrener.
your step into the
innovative future
Cloudiax offers the customers the Cloud Platform made in Germany, which continuously improves the business.
It enables partners and customers to deploy SAP Business One on SQL and HANA, POS solutions (point-of-sale), DMS (document management system), WMS (workflow management system), etc. in the Cloud without huge investments in IT infrastructure, hardware and specialized staff.
Use the Cloudiax know-how to your advantage!
why cloudiax?
Cloudiax is an international Cloud provider with over 190 partners and more than 8500 Cloud Users worldwide.
Your Cloudiax team consists of trained specialists with many years of Cloud expertise, so that we can guarantee you consistent quality.
With us, you get a fast and professional provision of your Cloud environment. Good support is the be-all and end-all of our customer satisfaction.
That's why you can reach the support team 365/7/24 and get personal advice from them.
Our transparent price list, which can be seen online, gives you full cost control.
Your valuable data is stored in a German data center, which protects your data worldwide thanks to the German and European data protection laws.
We have opened another data center in Toronto for our partners and customers outside Europe. This means that the distance is much shorter, which significantly reduces the latency time.
And you can also do your part with us when it comes to the environment, because the Cloudiax data center in Germany produces all its own electricity with 100 % CO2-neutral energy, and so does your computing power.
The road to Cloudiax AG
2002
Foundation of KDT GmbH as a management buyout from ISION Internet AG.
Business areas: Internet provider and IT infrastructure (Microsoft partner).
2008
KDT GmbH becomes SAP Business One Reseller (VAR). Building-up the new business.
New business areas: SAP Business One sales, consultancy and support.
2010
KDT GmbH is one of the TOP 5 SAP Business One resellers in Germany. Achievement: SAP Business One Gold Partner.
2013
Transformation from KDT GmbH to KDT AG.
2014
Takeover of Variatec AG and change the name from KDT AG to Variatec AG.
New business areas: International SAP Business One Solution Provider. (SSP)
Further development and international sales of SAP Business One Industry Solutions. Expansion of the international Variatec partner channel.
Awards: SAP Business One Global Solution partner of the year. SAP Pinnacle Award – "Global Innovation Partner of the Year".
2015
Start of restructuring measures, focus on cloud computing.
New business areas: Cloud computing for SAP Business One and SAP HANA development.
Establishment of the cloud brand "Cloudiax" and development of the cloud platform for SAP Business One partners. Development of web services as a native SAP HANA solution.
Awards: SAP Business One HANA partner of the year. SAP Business One Cloud partner of the year.
2016
Change of name from Variatec AG to Cloudiax AG. Further development of the Cloudiax Community with comprehensive cloud management and cloud solutions.
Unbundling of the different business areas SAP Solution Providing and SAP Reselling.
100% focus on cloud business. Further expansion of the international cloud data centers.
Executive Board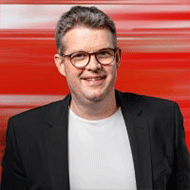 Dirk Cyrener (CEO)
Cyrener (born1972) started his entrepreneurship in 1996 with an internet provider. In 1999 this internet provider went public with other companies. As part of a management buyout, Cyrener founded KDT GmbH in 2002 (now Cloudiax AG) which he heads as CEO. From 2004 to 2007 he completed an MBA with a focus on entrepreneurship and innovation management.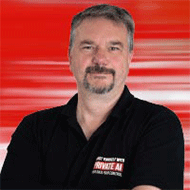 Hartmut Volkmar (CTO)
Volkmar is since 2014 responsible for cloud services at Cloudiax AG. For more than 25 years, he has developed his knowledge of SAP and operation of data centers, as the IT leader of a global medical technology group, and as advisor for outsourcing projects at banks and Internet providers. He was born in 1969 and learnt IT from the Pike of Preussag (today TUI) in 1993.
Supervisory board

The supervisory board of Cloudiax AG consists of 3 members which is elected periodically by a simple majority at the general meeting of shareholders. Every legally competent person, which is not part of the executive board of Cloudiax AG, is allowed to be elected as part of the supervisory board. Ordinarily the members of the supervisory board will be elected for a period of 4 years.
The supervisory board represents the interests of the shareholders against the executive board and has the function to audit and advise the executive board periodically (at least 4 meetings per year). Furthermore the supervisory board reports to the shareholders at the annual general meeting and assists the auditor with the annual financial statement, which he also has to be permitted by the board members.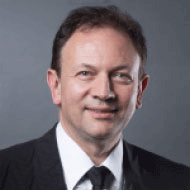 Werner Hölzl
Chairman of the supervisory board
CEO Versino AG
Hans-Georg Feldhaus
Deputy of the chairman
MBA in Business Administration
Tax accountant and auditor
Jürgen Bisselik
Member of the board
Established merchant